Why Buy Used
Why You Should Buy Pre-owned Preferred at Our Used Car Dealership in Gainesville Gainesville Buick GMC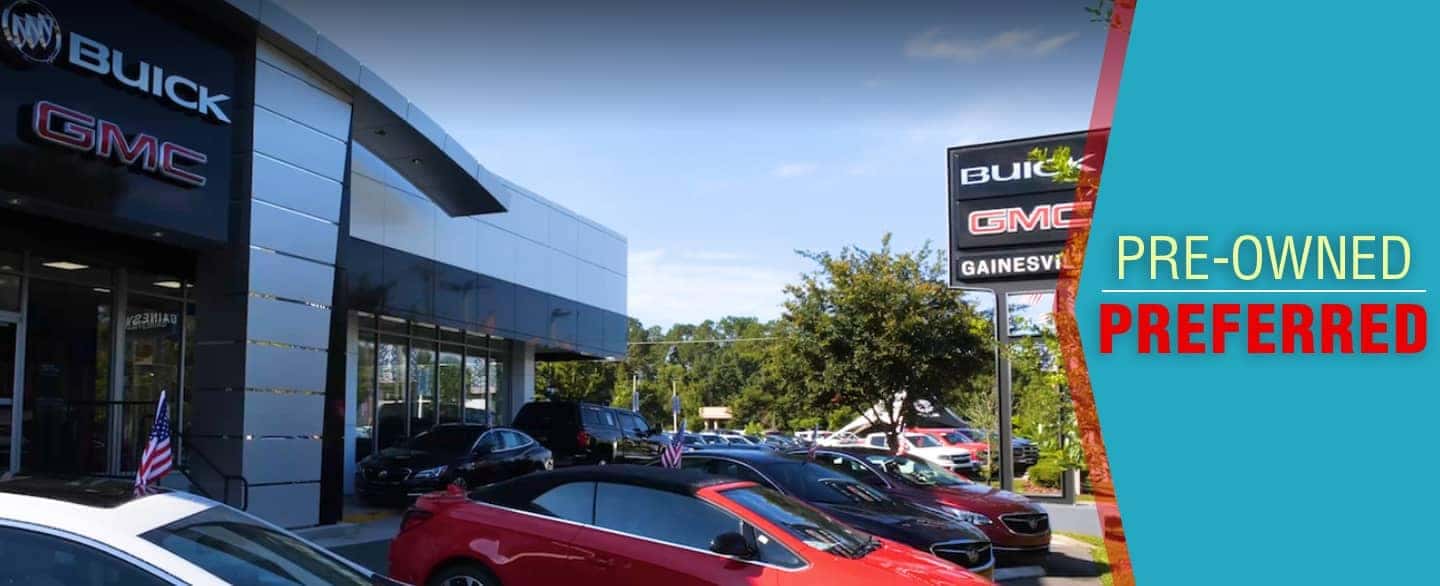 WE HAVE A LARGE INVENTORY OF CAREFULLY SELECTED PRE-OWNED PREFERRED VEHICLES
Gainesville Buick GMC is proud to offer an extensive selection of Pre-Owned Preferred Vehicles for your consideration. In addition to our inventory of New and Certified Pre-Owned Buick and GMC vehicles, we also offer pre-owned preferred vehicles from many major manufacturers. Of course, we do regularly stock multiple pre-owned Buick and GMC models. If the Buick or GMC pre-owned vehicles in our selection don't meet your needs and desires, we have a varying selection from other manufacturers.
Our entire pre-owned inventory is available on our website for you to take a look at. You can set various search filters to return results that meet your needs. Our pre-owned inventory page is designed to be easy to look through in seconds.
Take a look at the top-notch inventory of pre-owned preferred vehicles and special offers on pre-owned preferred Sedans, SUV's, Trucks, and Vans at Gainesville Buick GMC today.
YOU CAN GET PRE-APPROVED FOR FINANCING IN MINUTES
Once you've looked through our inventory and found the vehicle you want, you can get Pre-Approved for financing on the car you want without leaving our website. Our financing pre-approval application takes only a few minutes to complete and only seconds to return your results. When you have your results, it's time to come into our Gainesville car dealership to lock in your financing terms on the car you want. Our highly experienced financing professionals will work tirelessly with their network of lenders to get you the terms you want.
If you're looking for used cars for sale in Gainesville, Gainesville Buick GMC has a great pre-owned preferred selection and easy financing. Come see us today.
WE MAKE TRADING IN YOUR CURRENT VEHICLE CONVENIENT
The Gainesville Buick GMC website even offers a Trade-in Estimation tool. Trading in a vehicle is a vital part of the financing process for many prospective pre-owned car buyers, and we strive to make the process as transparent and convenient as possible. To that end, you can complete a trade-in estimation in minutes without leaving the comfort of your own home. All you have to do is input some vital information on your vehicle. This info may include the vehicle's make, model, mileage, and condition. Of course, it is important to keep in mind that the estimate is just that – an approximate trade-in value.
To receive a final trade-in value, bring the vehicle into our Gainesville location. Our technicians will inspect the vehicle and make a final trade-in offer. Our finance professionals can take this trade-in offer and credit it toward the financing on the pre-owned vehicle you buy from us. Trading in a vehicle at Gainesville Buick GMC will get you that much closer to driving away in your dream pre-owned car.
If you're thinking of trading in your vehicle at a used car dealership, Gainesville Buick GMC may be a better choice. Bring your trade-in here today.
WE'LL HELP YOU PROTECT YOUR PRE-OWNED PREFERRED BUICK OR GMC VEHICLE
At Gainesville Buick GMC, we offer GAP protection in case your pre-owned preferred Buick or GMC vehicle is totaled. We'll make up the difference between the amount you owe and the payout from your main automotive insurance company.
Gainesville Buick GMC elevates itself above competing Gainesville, FL car dealerships by offering Extended Protection on all pre-owned preferred Buick or GMC vehicles that you purchase from us. If you're looking for used cars, Gainesville Buick GMC has the selection and the protection.
VISIT Gainesville Buick GMC TODAY
Drivers in Jacksonville, Ocala, and elsewhere in the Gainesville, FL area are more than welcome to come into Gainesville Buick GMC today to look through our impressive inventory of pre-owned preferred vehicles. Our friendly and knowledgeable sales associates are eager to help you find the perfect used car for your situation. You can make an appointment now through our website at a time that's convenient for you. Of course, you can also visit us during our extensive business hours. We look forward to helping find a pre-owned preferred vehicle that'll fit all of your needs and desires. Come see us today.
When you need a pre-owned vehicle, don't forget our used car dealership, Gainesville Buick GMC, is here for you!